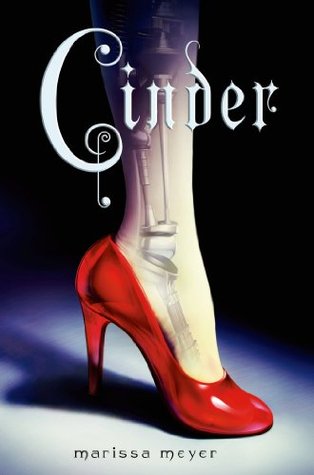 I received this book for free from the library in exchange for an honest review. This does not affect my opinion of the book or the content of my review.
Cinder
by
Marissa Meyer
Genres:
Steampunk
Published by
Feiwel and Friends
on January 3, 2012
Pages:
390
Format:
Hardcover
Source:
the library
Buy on Amazon
Goodreads
Also by this author:
Scarlet
,
Cress
,
Winter
,
Heartless
First in the The Lunar Chronicles futuristic steampunk series and revolving around a Cinderella of a girl. It's five years after "Glitches".
In 2014, Cinder was nominated for the Abraham Lincoln Award; in 2012, it was nominated for the Goodreads Choice Award for Best Young Adult Fantasy & Science Fiction.
My Take
Meyer is using the plotline of Cinderella as the basic framework for Cinder with the wicked stepmother and one stepsister, the pumpkin-turned-into-carriage, the prince and the ball, and the "shoe" she loses. Meyer also throws in a wicked queen, which made me think of another fairytale: Snow White.
There are so many conflicts built into Cinder…where to start? The prime conflicts within this story are Cinder's fears of what Kai will think of her and the machinations of the Lunar queen. I believe the series conflict is Cinder's two issues, one of which is being a second-class citizen simply because she's a cyborg and the other is the truth she learns about herself. Then there's the home conflict with Adri, which sends her into Dr. Erland's company.
The technology in Cinder is futuristic even though there's a feel of it being years in our past. Tech-wise, it can be handy to be a cyborg when it comes to detecting lie from truth. Not so handy is that ability to replay those disastrous memories like a video. More coolness is the security built into the palace, which is pretty amazing.
That Adri is concerned with money first, her daughters are secondary. Mother expects results from the TWO gowns, otherwise what's the point of spending the money. Cinder doesn't even enter the picture except for the times Adri wishes she'd never been burdened by her moneymaker. This from the woman whom Cinder believes has never worked a day in her life.
If Cinder has no rights and "belongs" to Adri, why doesn't she get Dr. Erland to help her out with this issue? I'd also like to know why Kai allows Levana to be so bossy in his palace! Why didn't he challenge her on that key word "knowingly"? How can she think she can threaten to kill his servants and send her own law enforcement into Kai's territory? That woman is so incredibly insulting, right along with that Sybil. I want to take a hatchet to both of them!
"Proper is such a subjective word. This solution is effective, and that can hardly be argued with."

Wanna bet?
Just as Cinder wants to know, so do I, why the ID chips in the dead are taken. Is it for the blackmarket money, really?
I can't help but like Kai. He's so egalitarian and concerned for his people. And he doesn't hold back all his "distaste" for Levana. Go, Kai! Most of me likes Cinder. She's had some really hard knocks, and yet I also dislike how whiny she is. Which is really NOT fair of me, because Meyer has painted her troubles very well, and I should remember that she's only 16. Of course she's suffering angst as a teenager and as someone treated so very badly.
"You're even more painful to look at than she is."
The Story
Even though androids and cyborgs roam the streets with humans, they are not considered people, but things. And a major reason why Cinder hides her differences. It is also those differences that make Cinder the best full-service mechanic around.
It's that reputation that brings Prince Kai to her market booth. And the one specifically invited to the ball. An invitation that is impossible to accept between Peony's troubles, Dr. Erland's warnings, and Cinder's own fears of Prince Kai's reactions, and the ruthless Lunar queen waiting to pounce.
No one knows that Earth's fate hinges on one girl.
The Characters
Cinder, a cyborg, is a full-service mechanic in New Beijing these days, and the only income her nasty bitch of a stepmother has. Iko is an android whom Cinder repaired way back when. Linh Adri is her stepmother. I cannot wait to see her face when she learns the truth about Cinder! Pearl (Meyer should've named her Persimmon for how sour she is!) is the oldest daughter; Peony is the youngest and a friend of Cinder's. Garan, Adri's husband, died of the plague a few weeks after bringing Cinder home.
The Eastern Commonwealth is…
…most of Asia with Prince Kai is the crown prince, heir to his father, His Imperial Majesty Emperor Rikan. His mother has already died of the plague. Konn Torin is the emperor's advisor. Nainsi is the tutor android Kai brought for repair to Cinder.
The royal letumosis research team is…
…desperately hunting for a cure for the plague. Dr. Dmitri Erland is the head of the research team. He'd had a daughter. Crescent Moon. Li and the too-tall Fateen are two of his assistants.
Lunar is…
…Earth's moon on which a colony of humans evolved into beings who can manipulate bioelectric energy, detecting it in others and controlling it. The ruthless Queen Levana rules them all, and mostly through her abilities. Princess Winter is Levana's daughter, but has no royal blood. How does that work? That Winter is Levana's daughter but is of another mother with her father a palace guard?? Sybil Mira is witchy ambassador and head thaumaturge to the Lunar Crown…and a spy. The queen's programmer (Sybil is her guardian and owner) is a whiny, weepy thing. Queen Channary is the older sister whom Levana murdered. Princess Selene had been Levana's niece who was burned to death in a nursery fire.
A shell is a Lunar born without the gift; Levana has them killed because she can't glamour them. Most parents of such children try to escape to Earth. There is a rumor that Dr. Logan Tanner brought the princess to Earth four months after her "death". He committed suicide after he checked himself into Xu Ming Psychiatric Hospital.
The alliance is composed of…
…six other Earthen countries. Prime Minister Kamin of Africa; President Vargas of America; Queen Camilla of the United Kingdom; Prime Minister Bromstad of Europe; Governor-General Williams of Australia; and, the South American.
Sunto is the son of the baker, Chang Sacha, who hates cyborgs.
Letumosis is the plague that has been killing Earthens for decades. Jiĕ is an honorific for a woman. The despised cyborgs and servant androids are property to be sold or dismantled on a whim. The Peace Festival is a celebration of the end of World War IV 126 years ago. Somehow, in her twisted-up mind, Levana thinks the war didn't affect the citizenry…
The Cover and Title
The cover is definitely a tip-off about Cinder with the metal calf within the flesh of a normal human leg with the foot in that bright red high-heeled shoe. The background is simple in its gradient of pale grey to the purple shadow of her shoe to the deepest gray at the top.
The title is in an embossed silver Gothic font. It's simple. Cinder is her name and being Cinderella is her unwanted game.
Related Posts