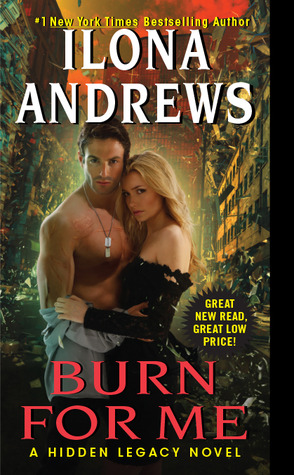 I received this book for free from my own shelves in exchange for an honest review. This does not affect my opinion of the book or the content of my review.
Burn for Me
by
Ilona Andrews
Series:
Hidden Legacy #1
Genres:
Urban Fantasy
Published by
Avon
on October 28, 2014
Pages:
384
Format:
eBook
Source:
my own shelves
Buy on Amazon
Goodreads
Also in this series:
"Pay Me"
,
Sapphire Flames
,
"A Misunderstanding"
,
Emerald Blaze
,
"The Cool Aunt"
Also by this author:
Burn For Me
,
Magic Shifts
,
Magic Binds
,
White Hot
,
Wildfire
,
Iron and Magic
,
Magic Triumphs
,
Magic Bites
,
Magic Burns
,
Magic Strikes
,
Magic Bleeds
,
Magic Slays
,
Gunmetal Magic
,
"Gerard Demille and Helen Meet"
,
"Diamond Fire"
,
Magic Rises
,
Magic Breaks
,
Magic Shifts
,
Magic Binds
,
Magic Triumphs
,
"Sweep with Me"
,
Clean Sweep
,
Sweep in Peace
,
"Questing Beast"
,
"A Mere Formality"
,
Blood Heir
,
"The King of Fire"
,
Blood Heir
,
Sapphire Flames
,
"A Misunderstanding"
,
Emerald Blaze
,
"The Cool Aunt"
,
One Fell Sweep
First in the Hidden Legacy urban fantasy series set in an alternate world of Houston, Texas, revolving around the hot, hot interaction between Nevada Baylor, a private investigator, and Mad Rogan, an incredibly strong Prime.
In 2015, Burn For Me won the DABWAHA Romance Tournament for Winner Novel with Strong Romantic Elements.
My Take
Andrews does like those alternate worlds *she says with a grin* The Houston of Nevada Baylor's alternate history world is dominated by Houses. Families with strong magical lineages. The couple in this — Neva and Mad — are like Kate and Curran from the Andrews' Kate Daniels series, and yet they are unique while some of the ways that magic is put to use reminds me of Jennifer Estep's Elemental Assassin series.
That Mad is a complex man. He's viewed by the public — and Nevada — as a killer. A man without conscience. It's Andrews who slowly reveals the truth…with a great deal of snark. That's not the only slow reveal Andrews, that sneaky couple, does either.
There's more humor in how the kids (and Grandma) are fans of Pierce and Rogan. Hey, both bad boys are hot, hot, hot. It's all part of the colorful Baylor family dynamic which will have you rooting for all of 'em. They're a fun bunch — Grandma is an absolute hoot.
There's a very telling point made by Mad that really brings home the cold policies employed by the Houses:
"I'm a product of calculated selective breeding … conceived because it would be good for my House to have an heir and because my parents' genes ticked the right set of boxes. You were probably conceived because your parents loved each other."
It's also telling of the Baylor family with Bern's response:
"According to our mother [Leon] was conceived because she was too wasted to remember a rubber."
I can't resist passing this quote on as well, ROFLMAO…
"'Yes, I'm a hermit. Mostly I brood,' Mad Rogan said. 'Also I'm very good at wallowing in self-pity. I spend my days steeped in melancholy, looking out the window. Occasionally a single tear quietly rolls down my cheek.'

…

'Do you also brush a white orchid against your lips?' Arabella put in.

'While sad music plays in the background?' Lina grinned."
The Baylors have finally stabilized their lives after their dad's tragedy, and now Augustine Montgomery shows up with this horrendous threat. I gotta admit it is a good business strategy even if it does possess the possibility of really bad publicity if it got out. And it makes for excellent motivation for Nevada.
I like the Baylor house. It's so practical with a very short commute. I also like Cornelius Harrison's animal abilities. It cracked me up when he explained why he had to wash out that sippy cup, lol.
Poor Mad is being judged for what the military assured him was an empty city. Of course, there is the little matter of his too-immediate reactions and his lack of emotion when killing.
"I remembered to breathe. 'Thank you for not killing the squirrel.'

'You're welcome, although now I want to go back and strangle it.'"
It's curious that both Mad and Adam have the same complaint about family. It says something that two such different people, responsible and irresponsible, feel that same leash of control. Family planning by the Houses reminds me of royal families with their preference for an heir and a spare, except the Houses call it their backup plan.
As Mad reveals himself to Neva (and us), I'm torn between admiration and ick. I love that Mad is so decent to the people he employs (our world's corporations could take a few hints from this!), but appalled that it's only in terms of efficiency. Ah, well, at least his employees do get that appreciation…which results in better work. Ahem.
It's the same in their world and ours. Those with power are listened to; those without are put upon. Schools still think that retorts are terrorist threats. Insurance companies and medical corporations are the same; they both want maximum return for their money and screw the patients. The part that seems unique to Neva's world is how useful telekinesis is for sex…hmmm…
Hmmm, I'm curious if we'll find out more about that slip about O'Reilly's cow.
Adam is such a hypocrite. He rails against family expectations and yet he expects them to support him financially. If he's such an embarrassment to family, why don't they get him in for treatment? Oh, yeah, they can buy anyone off, so why should they "punish" poor little Adam… Oh, brother, I do hate parents who can't acknowledge their offspring's issues. They're not doing their kids, themselves, or the world any favors.
You can't help but like Nevada. She's a moral person and willing to call Mad on his lack of morals. I loved her impassioned speech about how she's better off than the so-insecure Harper, and it is so true!! What bugged me about her was her own hypocrisy about Mad's effect on her. She doth protest too much, although I can understand her reasons for refusing.
It's the very end where we learn what the series conflict is, and oh boy. It certainly provides a lovely reason for Neva and Mad to have to team up again.
What Neva thinks is the end of her "partnership" with Mad is madly enticing. She rails at him for his lack of sympathy and having the same attitude as Adam, but Andrews does yet another reveal about Mad that will have you chomping at the bit to read White Hot…that won't come out until May 30, 2017!!
The Story
Nevada Baylor is faced with the most challenging case of her detective career — a suicide mission to bring in a suspect in a volatile case. Nevada isn't sure she has the chops. Her quarry is a Prime, the highest rank of magic user, who can set anyone and anything on fire.
Then she's kidnapped by Connor "Mad" Rogan — a darkly tempting billionaire with equally devastating powers. Torn between wanting to run or surrender to their overwhelming attraction, Nevada must join forces with Rogan to stay alive.
Rogan's after the same target, so he needs Nevada. But she's getting under his skin, making him care about someone other than himself for a change. And, as Rogan has learned, love can be as perilous as death, especially in the magic world.
The Characters
Nevada Baylor is doing her best as a private investigator to pay off the family bills, maintain the family agency — the Baylor Investigative Agency — and keep a roof over everyone's heads. She's also doing her best to keep her Truthseeker ability off the books. Bern and Leon are brothers and cousins to the Baylor girls; Gisela is their absent mother. Bern does computer research for the company via the Hut of Evil in between attending college; the fifteen-year-old Leon can't sit still and is keen on fairness. Arabella is the youngest sister with Catalina two years older; both are drama queens. Mom, Sergeant First Class Penelope Baylor, is a military veteran, a sniper with a magic talent of hand-to-eye coordination, who retired after her rescue. Grandma Frida is a mech-mage with a preference for armored things. She likes to name the vehicles she works on: Thiago is of the Wolf-Spider class and Romeo is a tank. Dad has been dead for the past five years.
House Rogan
Major Connor "Mad" Rogan (a.k.a., the Butcher or the Scourge of Merida, the Huracan) is an incredibly strong Prime, an inorganic telekinetic with minor tactile telepathy ability, and the billionaire head of House Rogan. He appears to care for little. Gerard was his nasty grandmother's servant. Kelly Waller had been part of the Rogan House family, Mad's eight years older cousin, until she chose to marry for love. She and Tom Waller have a son, Gavin, who has a short-range teleporter ability. Troy Linman is former military and in need of a job. Santino is part of Mad's security. Dr. Daniela Arias is another one of Mad's rescuees.
House Montgomery…
…owns the Baylor Investigative Agency as part of its overall Montgomery International Investigations (MII) and doesn't hesitate to abuse it. Augustine "Pancakes" Montgomery is the House head and a Prime. Lina is the well-turned-out secretary.
House Pierce…
…owns Firebug, Inc., a leading provider of industrial forging products. Adam Pierce, the youngest son, is a Prime pyrokinetic who has been given anything and everything he wants by his wealthy family, and now he's rebelling against their expectations. A murderous antihero who believes that "if you can take what you want, you should be able to do so", he started his own motorcycle gang. Christina is his overbearing, enabling, drama queen of a mother. You do not cross her. Peter Pierce is Adam's oldest brother who works for the family company; the second oldest brother works for the military. Tatyana is his sister and a Prime.
House Harrison isn't…
…large or powerful. Cornelius Maddox Harrison, an aminal mage, is one of Pierce's childhood "friends", his whipping boy, and the second son of Rupert and Martha Harrison (she went to school with Christina). Matilda is his and his wife's daughter. Edwina is a raccoon, one of the animals who help out around the house.
Lenora Jordan is a Prime Harris County District Attorney with a rep for being incorruptible, powerful, without fear, and an ability for getting justice. The police include Sergeant Munoz.
Jersey Village is…
…a Houston suburb that flooded thanks to former Mayor Thomas "Bubba" Bruce's "brilliant" idea of building a subway. Bug is a surveillance specialist thanks to the military turning him into a swarmer and lives in Jersey Village. Napoleon is his French bulldog. Thea is a House Shaw guard at the gates to Jersey Village. Cherry is one of those magic-warped humans who tried experimental augmentation that went wrong. Peaches and Montrel are gangleaders.
Colonel Rudyard Emmens was British ex-military with a pyrokinetic ability. Edward had been his son, a Notable pyrokinetic. Frederick Van Pelt was one of Edward's friends. Mark Emmens is his great-grandson; Mark's grandson is Jesse. In the Emmenses family past history was a Frederick Rome who had married an Emmens daughter. Patricia Emmens had married a William Bridges. Lieutenant David Harrisson of the Chicago PD later wrote crime fiction as John F. Shephard. One of his books, The Devil's Fire was about that fire.
John Rutger is a mage, ex-military. His wife, Liz, thinks he's having an affair. Again. Mateus, Cowboy, and Asli are free agents whom the Baylor Investigative Agency hires when Nevada needs help. George Kolter had been a fulgurkinetic Prime pedophile. Gustave Peralta of Gustave's Custom Cycles appears to be another who can't say no and pays Reginald Harrison monthly. Sergeant Major Makarov is a Russian friend of Grandma's with access to shockers. Szenia is a trained paramedic. Diego and Valerie are classmates of Arabella's. Kevin was Neva's last boyfriend. Harper Larvo (her parents are Phillip and Lynn) is a mean-spirited harmonizer with a degree in Art History; she's rated as Notable but leans toward Average. Think of her as a Kardashian — useless and famous for nothing. Professor Ian Itou is Bern's history professor with his own theory about what started the Great Chicago Fire of 1871 — and it wasn't the O'Learys' cow. Pegleg Sullivan claimed to see the fire. Professor Magdalene Sherbo is a coworker in the history department who would know more about Indian artifacts. Cesare Costa does a nice hex.
Osiris serum, developed in 1863, brings out hidden magic talents and a world that went mad to foster those talents. Houses, family lineages that married to increase their genetically inherited abilities, controlled the world. Enerkinetics use magical energy; pyrokinetics use fire; aquakinetics use water; the rare levitator is a branch of telekinesis and highly prized; Truthseekers can tell if someone is lying and is the third rarest talent; fulgurkinetics toss around lightning; swarmers are created by the military using bound magic to inject "swarms" into a person, "letting him or her split his attention over hundreds of independent tasks" and have a life expectancy of eighteen months; harmonizers can inject any mood they want into a space; and, wind mages are obvious while combat mages can fight.
Then there are the ranks of magic, all of which play into who marries what. Prime is the highest, followed by Significant, Notable, Average, and Minor. Stainless Steel seems to be a classification of strength. A failed vector is when a bloodline's magic ability gets weaker with each generation. Passive magic is the subconscious use of one's magic; active magic is its active use. Think of it as a cellphone that is always looking for a signal versus you actually making a call. Shockers seem to be a snake-like magic that gets implanted in your arms; when you see the glowworm, stop using the shockers. Acubens Exemplar is a spell that puts crushing pressure on a person. High spells take generations of research and experimentation. Hellspawn is a House Pierce-specific high spell designed to create null space, like a force field that prevents any penetration. A Key is a family-specific spell that recharges your magical batteries.
HR managers prefer not to hire combat mages. Think postal. The South American wars were instigated by Mexico, a powerhouse of magic which wanted what Belize had. The Herald is a social fan network dedicated to unmarried Primes. Mishepishu is an underwater panther of the Great Lakes that requires a toll be paid if you wish to cross. Equzol is a military drug that levels you out and is issued to snipers and convoy drivers. The Ice Box is an underground, maximum-security prison in Alaska.
The Cover and Title
The cover finds the Keanu Reeves-look-alike, er, I mean, Mad, shirtless with dogtags dangling on his bare chest as he holds the blonde Nevada, wearing what appears to be a black trash bag ballgown in tatters on a melting street lined with tall buildings…burning…collapsing… The author's name is at the top in white while the title is in a deep pink at the bottom with the series information below that in yellow.
The title has so many possibilities. Adam's pyrokinetic displays, the, ahem, heat between Nevada and Mad, or that Mad so earnestly desires Nevada to: Burn For Me.
Related Posts