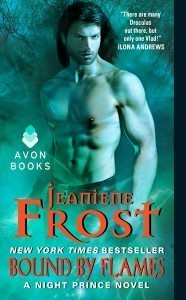 I received this book for free from the library in exchange for an honest review. This does not affect my opinion of the book or the content of my review.
Bound by Flames
by
Jeaniene Frost
Genres:
Urban Fantasy
Published by
Avon
on January 27, 2015
Pages:
342
Format:
Paperback
Source:
the library
Buy on Amazon
Goodreads
Also by this author:
The Beautiful Ashes
,
Into the Fire
Third in the Night Prince urban fantasy series (a spin-off from Frost's Night Huntress series) and revolving around Vlad the Impaler and his new bride, Leila.
My Take
Whew, this is such an improvement over Twice Tempted, 2. Yeah, there's a bit of melodrama and a whole LOT of torture. Just nasty. Fortunately, Frost doesn't delve too deep into that one. Although the tell of it doesn't bring the full horror home.
I do have to laugh at Leila's frustration with Vlad. It's an interesting clash between modern woman and medieval warrior. Marty does wonder if Leila understands that Vlad has been ruthless and overpowering for centuries. Not habits one changes overnight, which makes it rather fun to watch. On the other hand, it was rather annoying that Frost didn't make it more of a battle between them. And then again, it was lovely to have an intelligent character who could understand when Vlad's actions were the best plan of action. I know, I know, I should make up my mind.
It's his own experiences with being tortured and raped that enable Vlad to know the lengths to which a prisoner will go to survive.
I can definitely see why Marty wouldn't want to go up against Vlad. The things he does to the people who do betray him…*shudder*… There is something to be said for not reacting at the drop of a hat. Maximus had been loyal to Vlad for over 500 years and then was kicked out for one series of lies. Okay, that is bad, but exile…? Then Maximus drops that one statement on Leila, and I can so understand why I'm terrified.
I cannot believe the reasons why Szilagyi hates Vlad so much. How incredibly petty!
Oh, man! ROFL, Vlad tells Leila his greatest secret…you will LYAO too.
The Story
Vlad must battle with a centuries-old enemy whose reach stretches across continents and whose strength equals his own. It isn't like Vlad to feel fear, but he does…for Leila, because his enemy knows she is Vlad's greatest weakness.
It's the depth of Szilagyi's treachery that is so shocking, as friend and foe alike align against him — and his overprotectiveness drives Leila mad — Vlad's love for his new bride could be the very thing that dooms them both…and Leila's love for Vlad may be their survival.
The Characters
Leila Dalton Dracul, once known as the Fantastic Frankie (Once Burned), 1, is tied in a human marriage to Vlad. She has psychometric abilities which makes her the best lie detector on the planet. Due to a tragic accident when she was 13, she also carries quite the electrical charge. Vlad "the Impaler" Basarab Dracul is 600 years older than Leila and madly in love with her. Clara had been Vlad's wife back when he was still human. Hugh Dalton, a retired lieutenant colonel, is Leila's disapproving father; Gretchen is her sister. Marty, a dwarf vampire, is more of a father to Leila than her own.
Samir is the new head of Vlad's guards who include Christian, Petre, Alexandru, and Dorian. Claude and Erin are Vlad's pilots. Sandra is one of the human blood donors at the castle and Leila's friend. Darryl Meadows is on death row. Bernstein is the wrong cop. Phillips is a murdering guard at the Louisiana State Penitentiary.
The Night Huntress characters include…
…Mencheres (whom Vlad sees as his honorary sire) and Kira and Bones and Cat whose grave power will come in very handy. Katie is their daughter. Vlad offers a powerful gift for Cat's help. Tate and Cat's mom are living with Cat and Bones. Fabian is Cat's ghost friend.
Marie Laveau is voodoo queen of the revenants.
Mihaly Szilagyi, uncle to the then Hungarian king, is Vlad's oldest enemy and his father-in-law. Maximus had been Vlad's oldest friend until he betrayed him in Once Burned. Harold is Szilagyi's torturer. I'd like to see him tortured to death. By Vlad. No wait…imprisonment would be far worse. Cynthiana, the vampire for whom Shrapnel betrayed Vlad, is also Vlad's former girlfriend. She killed Leila in Twice Tempted. Ilona was Vlad's second wife, a woman already pregnant, and Szilagyi's daughter. Radu is Vlad's brother, and his son, Mircea, hates his stepfather.
The "Joker" and "Khal Drogo" are some of eastern Europe's big bads. Tenoch was Vlad and Szilagyi's sire. Remnants feed on energy and pain, not even a vampire is a match for them. The Law of Guardians outlawed the use of magic.
The Cover and Title
The cover is deep mint green and fluorescent orange (it really makes the title and author's name stand out!) A bare-chested Vlad stands at an angle, his head turned to the left but those eyes glaring at us, his hair blowing behind him. This man, this vampire, is ready to flame out against a background of wisps and bare branches.
The title is Leila and Vlad, Bound by Flames, even as their enemies too find themselves in that embrace.
Related Posts