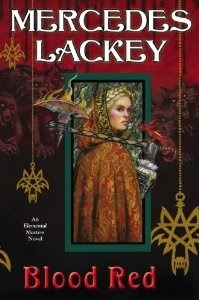 Blood Red
by
Mercedes Lackey
Series:
Elemental Masters #10
Genres:
Fantasy
,
Paranormal
Published by
DAW Books
on June 3, 2014
Pages:
320
Format:
Hardcover
Source:
the library
Goodreads
Also in this series:
Elementary: All-New Tales of the Elemental Masters
,
The Case of the Spellbound Child
Rosamund is an Earth Master in the Schwarzwald, the ancient Black Forest of Germany. Since the age of ten, she has lived with her teacher, the Hunt Master and Earth Magician of the Schwarzwald Foresters, a man she calls "Papa". Her adoptive Papa rescued her after her original Earth Master teacher, an old woman who lived alone in a small cottage in the forest, was brutally murdered by werewolves. Rosa herself barely escaped, and this terrifying incident molded the course of her future.

For like her fellow Earth Masters of the Schwarzwald Lodge, Rosa is not a healer. Instead, her talents lead her on the more violent path of protection and defense — "cleansing" the Earth and protecting its gentle fae creatures from those evil beings who seek to do them harm.

And so Rosa becomes the first woman Hunt Master and the scourge of evil creatures, with a deadly specialty in werewolves and all shape­shifters.

While visiting with a Fire Master — a friend of her mentor from the Schwarzwald Lodge — Rosa meets a pair of Elemental Magicians from Hungary who have come looking for help. They suspect that there is a dark power responsible for a string of murders happening in the remote countryside of Transylvania, but they have no proof. Rosa agrees to help them, but there is a catch: one of the two men asking for aid is a hereditary werewolf.

Rosa has been taught that there are three kinds of werewolves. There are those, like the one that had murdered her teacher, who transform themselves by use of dark magic, and also those who have been infected by the bite of these magical werewolves — these poor victims have no control over their transforma­tive powers. Yet, there is a third kind: those who have been born with the ability to trans­form at will. Some insist that certain of these hereditary werewolves are benign. But Rosa has never encountered a benign werewolf!

Can she trust this Hungarian werewolf? Or is the Hunter destined to become the Hunted?
Also by this author:
Mercedes Lackey & Rosemary Edghill, Victories
,
The House of the Four Winds
,
Closer to Home
,
Changing the World: All-New Tales of Valdemar
,
Under the Vale and Other Tales of Valdemar
,
Winter Moon
,
Moving Targets and Other Tales of Valdemar
,
Elementary: All-New Tales of the Elemental Masters
,
No True Way: All-New Tales of Valdemar
,
From a High Tower
,
Hunter
,
Closer to the Heart
,
Silence
,
A Study in Sable
,
Elite
,
Closer to the Chest
,
Tempest: All-New Tales of Valdemar
,
A Scandal in Battersea
,
The Hills Have Spies
,
The Bartered Brides
,
Dragon's Teeth
,
Eye Spy
,
Breaking Silence
,
Pathways
,
The Case of the Spellbound Child
,
Jolene
,
Passages
,
Magic's Pawn
,
Magic's Promise
Tenth in the Elemental Masters paranormal fantasy series and revolving around some version of a fairy tale. The focus here is on Rosa von Schwarzwald.
My Take
It starts with a slight twist on the Red Riding Hood tale.
Just reading Rosa's thoughts of the trials of the journey back is enough to make me grateful for airplanes — even if they do come with all this excess security. Certainly Rosa appreciates the comforts provided by the treasure that Gheorghe and Matei give her. Rosa's thoughts on the gown Mutti has made her also make us aware of the importance of dressing to fit in while the Professor helps her to codify the upper classes so she will understand better how to fit in.
It's a clever move on Lackey's part to introduce Rosa to this wider world. Very nicely done. It's also very empowering for women as the men in Rosa's life encourage her to embrace her abilities and proudly introduce her to other influential men. It's very refreshing and includes moments of introspection in which Rosa is careful to remind herself not to get cocky. A nice way to show us Rosa's character.
It's also a fun way to introduce us to the German Elemental Masters — and isn't that a treat to visit a different country in this series? It's like a fun and cozy house party with the excitement of the chase built in at that level of society.
The story is also a good example of why treating others fairly is a good idea.
The Story
The move to Holzdorf in the Schwarzwald will change more than their address, and a wolf attack on Rosa's teacher will change Rosa's life forever.
It's on a hunt in a foreign land that the copper medal is found on the hunted. And yet again. Two cannot be a coincidence, and it leads Rosa on a very dangerous hunt with new partners. One of whom will challenge all her beliefs.
The Characters
Rosamund "Rosa" von Schwarzwald, a.k.a., Red Cloak, has Earth magic, but not your standard Earth magic. No, our Rosa has more martial qualities. Mutti and Vati have had to move to Holzdorf in the Schwarzwald so Rosa may flourish, once Onkel Hans and Tante Bertha pointed it out. Mutti is not doing well while Vati is now a schoolteacher.
The Bruderschaft der Förster, a.k.a., the Brotherhood of the Forest…
…are the arcane guardians of the Schwarzwald, a great forest which the huntsmen protect from evil. The Hunt Master is Gunther von Schwarzwald and his crew — Gilda, Hans Osterwald (an Earth Master), and Fritz — rescue Rosa. Ulrich Bernwald and Walther Vogel will join Hans.
The Munich Lodge
The master is Heinrich, Graf von Stahldorf, and he's a great friend of Rosa's "father". Fritz Bern is the Water Mage who got rumbled. Rudolf Weiss is the Graf's private secretary. Bergdorf is the butler; Berthold serves at table. Marie had been the Graf's mistress' ladysmaid and now she has some useful tips for Rosa. Dominik Petro, an Earth Master who studied medicine, and Markos Nagy, a werewolf who studied history, are friends and cousins who have come for help from the Graf.
Professor von Endenberg has made a study of Society which will stand Rosa in good stead. Anna is a brilliant soprano. The children at the house party include Peter, Tobi, and Johan with lots of proper presents.
Mother Lovina, a Roma, has reassurances for Rosa. Matei and Gheorghe are magic-users who hide who they are in Rosia Montana, a tiny village in Romania with a wolf problem. Herr Bjorn Herbst is the Master of the Berlin White Lodge
Casolt
Frau Schmidt is the old lady of the village who is willing to talk. Petrescu, the mayor, and Vasile are the old men playing checkers while Lungu is middle-aged. The supernatural allies who come to help include Moşul, the iele who are Great Air Elementals, the zâne are of the fifth element, of Spirit, and the vâlva băilor, the Great Elementals of the Earth.
Durendal, a.k.a., Herr Doktor Erik Reinhardt, is an evil Air Mage in Vienna. Bertelan is the sorcerer-shifter in Romania who has been building his pack.
The alvar are the Elementals most people don't see. Each forest seems to have its own Lord of the Hunt. The werewolves who use a belt of wolfskin to transform are magicians gone wrong. The strigoi are shapeshifting vampires.
The Cover
The cover is gorgeous in its richness. A deep, blood red background with blood dripping from the top as wolves snarl around the inset picture of the blonde Rosa with her typical German braid crowning her head. The figured red cloak is framed by a black embroidered band, and she carries a flaming battle axe, a salamander perched above her hand. It's perfect as our Rosa is primed for battle. Dangling on either side are the copper Stag of St. Hubert medals.
The title is all Rosa in her Blood Red cape and approach to the bad guys.
Related Posts