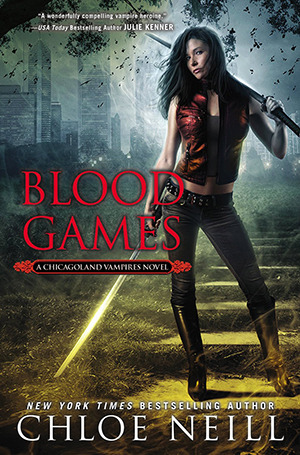 I received this book for free from the library in exchange for an honest review. This does not affect my opinion of the book or the content of my review.
Blood Games
by
Chloe Neill
Genres:
Urban Fantasy
,
YA
Published by
NAL Trade
on August 5, 2014
Pages:
350
Format:
eBook
Source:
the library
Goodreads
While Merit didn't choose to become a vampire or Sentinel of Cadogan House, she vowed to fight for her House and its Master, and she's managed to forge strong alliances with powerful supernaturals across Chicago. But even though Merit has had wild adventures, this may be her deadliest yet...

A killer is stalking Chicago, preying on humans and leaving his victims with magical souvenirs. The CPD hasn't been able to track the assailant, and as the body count rises, the city is running out of options. Vampires and humans aren't on great terms, but murder makes for strange bedfellows. Can Merit find the killer before she becomes a target?
Also by this author:
Kicking It: These Boots are Made for Stalking
,
The Veil
,
The Veil
,
Midnight Marked
,
Dark Debt
,
The Sight
,
Blade Bound
,
The Hunt
,
Wild Hunger
,
The Beyond
,
The Bright and Breaking Sea
,
"Slaying It"
Tenth in the Chicagoland Vampires urban fantasy series for young adults and revolving around Merit, Sentinel for her House. Based in Chicago in early March.
My Take
Neill does make vampires seem like more everyday kind of people. Their concerns about good PR, the care they take for each other, their interest in movies and the yummy snacks, besides the blood, ahem *grin*. That retort of Jonah's about the nymph dinner party definitely brings that home, lol.
Ethan's been cleared. The mayor has come to realize the truth. About frickin' time! And Cadogan House is still independent of the Greenwich Presidium (GP).
There are a number of funny moments in Blood Games. The end of the world — which is taking its time as Merit points out that the appearance of vampires signaling the end of the world can't be accurate "since vampires have lived among humans since the dawn of time", lol. There's Merit's introduction to SpringCon, especially when she meets up with herself and learns that she doesn't quite look like Merit. Even funnier is how Chicago's Hunkiest Vampire is merchandised, lol. Then there's Jonah's comment about Shakespeare's quote about lawyers! So true, so true, lol.
Hmm, seems that the Red Guard (RG) is a tiny bit irked that Merit hasn't been around, and they're concerned about where her loyalties may lie.
I do like this quote from Merit…
"I've been around money and power for most of my life. It doesn't control me."
Then there are the niggles… Ethan's big bad secret is no big deal. I don't see why he's making such a fuss of it. Okay, everyone is concerned for Ethan having to undergo this psychological challenge…and Lindsey WAITS until ten minutes before he has to undergo it to ask him if he knows how to compartmentalize? Where has she been?
I did like Amit's statement to Merit. Sure, Ethan's secret is huge, and I do think that Merit has a right to hear it. But Amit is also right in that Ethan is entitled to keep his past in the past.
She definitely is not my choice. Duplicitous, without honor, and using blackmail.
Then the shocker…several in fact. It'll be interesting to see where Neill goes from here! …and I'm hoping that Neill keeps this improvement in her writing going…
The Story
It's a personal challenge, using the Cadogan Dash, to titillate Merit and Ethan with their own private bet. A less personal challenge is the one Ethan laid out to Darius West, challenging him for leadership of the Presidium. A more public challenge to which there has been no response.
It's not the only issue, for vampires have murdered Detective Jacob's son, Brett, and Darius West is in Chicago.
And Grandpa has to attend a nymph dinner party. Good thing Grandma isn't alive!
The Characters
Merit was turned to save her life, and she is now the Sentinel, the protector of the House as well as its social chair. Moneypenny is the be-yoo-ti-ful silver Mercedes coupe given to her in Biting Bad, 8. Joshua Merit is her overbearing human father, a real estate mogul. Robert is her elder brother (he has a new baby); Charlotte is her sister.
Ethan Sullivan is the Master of Cadogan House and Merit's lover.
Cadogan House is…
…a lot like a sorority/fraternity house but for vampires. Malik is second-in-command in the House. Luc is the guard captain. Connor and Brody are also participating in the Dash. Lindsey is one of Merit's best vampire friends, a guard, and Luc's sweetheart. Kelley, Juliet, and Christine are some of the inhabitants. Margot is the House chef. Delia is the House doctor. Helen is the House den mother; Ethan stole her from the White House.
The Red Guard is…
…a secret organization of vampires independent of any House which keeps watch on the GP and the twelve American vampire Masters. Jonah of Grey House is Merit's partner in the Red Guard and captain of the Grey House guards. Horace is also a Civil War veteran. Matthew Post, a rogue, is the RG's analyst and IT expert.
The Ombudsman of Chicago acts as…
…the liaison between the city and the supernatural. Chuck Merit is Merit's grandfather and back to being the official Supernatural Ombudsman for Chicago. Catcher Bell is a sorcerer and back to being Mallory's boyfriend. Mallory Carmichael is a sorceress who went off the rails for a bit. As part of her community service, she's put together SWOB, Sorcerers Without Borders, an organization that steps in where the Order isn't. Jeff Christopher is a shifter and the ombudsman's tech guy. And Jeff just got a brand new present! Jakob's Quest is Jeff's favorite online role-playing game.
The Chicago PD
Detective Arthur Jacobs is a good friend of Merit's grandfather and a vampire ally. Detective Bernadette Stow is in charge of the murder investigation. Grant Lin is with the medical examiner's office. Rainey Valentine is the staff psychologist.
Mayor Diane Kowalcyzk has seen the error of her ways. The silly twit. Connor Keene is Gabriel and Tanya's son.
Brett Jacobs is Arthur's son, recently graduated from college and a musician. Samantha Ingram is a potential Initiate. Persephone was the changing point in Ethan's life.
Tyler, a comics artist, is a friend at SpringCon. And it's too funny when Jonah blushes, lol. Nan works at? with? FaireMakers which sells weapons of all sorts. The Magic Shoppe is located in Chicago and sells custom weapons. Mitzy Burrows is one of their employees. Jane? June? Fletcher was an artist who created the Fletcher tarot deck. Skylar-Katherine Tyler and Curt Wachman still work at the Magic Shoppe.
The Houses are a way of splitting up the vampires into more governable bodies which are ruled over by the Greenwich Presidium, a European council of vampires. Darius West is the vampire who leads the Presidium. Charlie is his majordomo and usual travel companion. Other Council members include Dierks, Danica Cummings, Edmund (he conspired with Monmouth), Lakshmi Rao (she has a crush on Jonah), and Diego — these last two Ethan counts as allies. The Canon is volumes of vampire law. Reginald Weatherby, an herbalist, is the beneficiary of one of the Swiss accounts.
Teresa Perez and Albert Christian are some of the European contenders. Nicole Heart is the other American contender. She's also the Master of Heart House in Atlanta. Bennett and Sarah are Nicole's Second and Sentinel; Iain is her spy. Amit Patel is the strongest vampire in the world and Ethan's friend.
In Chicago there are three Houses. The other two are Navarre House whose Master is Morgan Greer, and Grey House whose Master is Scott Grey. Rogues are unaffiliated vampires.
Victor Cabot is the Master of Cabot House in New York City; he's also good friends with Darius and is experienced in international espionage. Ryan (Darius was his sire), Cord, and Max are the team Victor has sent.
The nymphs are…
…flighty, prone to arguments, each controls a segment of the river, and they adore Jeff. Cassie controls the river's North Branch, and the platinum blonde Malaina controls the West Fork.
The Order is the American union of sorcerers.
Big, bad vampires whom Ethan or Merit have killed in the past include:
Balthasar, Ethan's sire. Celina Desaulniers, the now-former Master of Navarre House. Harold Monmouth of the Greenwich Presidium.
The Cover and Title
The cover is a foggy night of deep blues and yellow-greens with Chicago's skyline in the background and a cocky Merit in her beloved boots, hip-hugger jeans, and a red leather, zip-front vest, carrying two katanas as she stands on an inset stone staircase, one hip cocked. The title is vertically centered and offset to the left in red with the author's name in white at the bottom.
The title is what's ahead for Ethan, Blood Games that he must win.
Related Posts