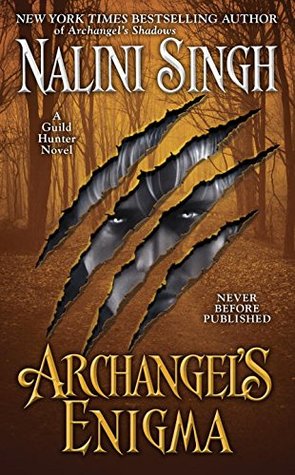 I received this book for free from the library in exchange for an honest review. This does not affect my opinion of the book or the content of my review.
Archangel's Enigma
by
Nalini Singh
Published by
Berkley Sensation
on September 1, 2015
Pages:
357
Format:
Paperback
Source:
the library
Buy on Amazon
Goodreads
Naasir is the most feral of the powerful group of vampires and angels known as the Seven, his loyalty pledged to the Archangel Raphael. When rumors surface of a plot to murder the former Archangel of Persia, now lost in the Sleep of the Ancients, Naasir is dispatched to find him. For only he possesses the tracking skills required—those more common to predatory animals than to man.

Enlisted to accompany Naasir, Andromeda, a young angelic scholar with dangerous secrets, is fascinated by his nature—at once playful and brilliant, sensual and brutal. As they race to find the Sleeping archangel before it's too late, Naasir will force her to question all she knows...and tempt her to walk into the magnificent, feral darkness of his world. But first they must survive an enemy vicious enough to shatter the greatest taboo of the angelic race and plunge the world into a screaming nightmare…
Also by this author:
Archangel's Legion
,
Archangel's Shadows
,
Shards of Hope
,
"Fairy Balloons"
,
"An Unexpected Guest"
,
Allegiance of Honor
,
"The Song of the Wolf"
,
Silver Silence
,
Archangel's Heart
,
Archangel's Viper
,
Ocean Light
,
"Elena's School of Horror"
,
Cherish Hard
,
"Ain't No Party Like A Bear Party"
,
Archangel's Prophecy
,
"One Night At The Refuge"
,
"Secret Things"
,
Rebel Hard
,
Rock Hard
,
Wolf Rain
,
"Clean and Dirty"
,
"Wolf School"
,
"Naya's Most Important Visitors"
,
"Grocery Shopping"
,
"A Gift for Kit"
,
"Movie Night"
,
"Kaleb and Sahara's Meeting with Sascha and Lucas"
,
"Housewarming at the Orchard"
,
"Christmas in the Kitchen"
,
"Stalking Hawke"
,
"Romancing Drew"
,
"Sunday Morning"
,
"Rowan"
,
"Baubles & Ben"
,
Wild Embrace
,
Love Hard
,
Rock Addiction
,
"Music Awards"
,
Rock Courtship
,
"Rock Courtship Memo"s
,
Rock Redemption
,
"Sunshine"
,
Rock Wedding
,
"With This Memo"
,
A Madness of Sunshine
,
"Beary Tiny Ghosts"
,
Alpha Night
,
"A Wedding Breakfast"
,
"Poker Night"
,
"Knives and Sheaths"
,
"Seedlings"
,
"Star Kissed"
,
"A Walk on the Cliffs"
,
"Wild Cat Blues"
,
Slave to Sensation
,
Caressed by Ice
,
Visions of Heat
Eighth in the Guild Hunter paranormal romance series set in an alternate New York City (usually) and revolving around those loyal to Raphael, archangel of New York. The couple focus in Archangel's Enigma is on Andromeda and Naasir. If you're interested, there is a chronological listing of the Guild Hunter books on my website.
My Take
All the teasing Singh has dribbled out along the way about Naasir's makeup is finally answered. And it's well worth waiting for. It explains, well, everything from the honesty of his speech to his playful bites and attacks to his abilities in the field.
I have enjoyed Naasir's perspective on people, on life, so Archangel's Enigma was even more of a treat with its focus on Naasir. He's both so very innocent and so very knowing about people. He does know himself, which is more than can be said for most of us, but he is missing that socialization knowledge. It's information he has struggled to learn. Other struggles come out in his interactions with his friends as they prompt him through the how and why of future actions. That bit about the money card was a crack-up. I think it was Archangel's Shadow, 7, where Naasir took Elena a gift for a dinner party that had all his friends on tenterhooks, wondering what he would take her. It was indeed perfect, and perfectly weird! Now Naasir comes up with the perfect gift for Andi's parents…*ohmigod, it's too funny and too perfect!*…
Singh does just enough to keep Lijuan less powerful after events in Archangel's Legion, 6, and still remind us how terrifying she is as Andi stands in fear, watching as Lijuan cycles through the possibilities. We do get some insight into Xi's back history. It makes me understand why he supports Lijuan, but there is a scrap of hope in there that he may change his mind.
It's sweet and sad all at once with the flashbacks Naasir has about the people who matter the most to him. Dimitri who told him that he was a person, one he would miss so very much if he were gone from this world. Honor who loves him, accepts him as hers. I did appreciate Dimitri's tactics in encouraging Naasir to go to school, lol. Yep, the way to a young man's heart *more laughter*.
I have to laugh at Naasir's approach to the mate thing. He's ready, so where is she? He has a list of what he requires from a mate, and that includes secrets and game play. He does love to play. It's his honesty and forthrightness that makes this story so much fun. It's part of the spark in Archangel's Enigma that Naasir thinks of courting, such an old-fashioned term, and how he believes that courting should be done. And how convenient is it that Andi is so perfect for him *eye roll*. Almost as convenient as Naasir remembering where he last saw the Star Grimoire. …did Andromeda really think her grandfather would respect her vow?
No, seriously, it really is a match made in heaven what with Andi's upbringing. It just seems too easy right along with Andromeda's personal conflict: that fifteen-day deadline her parents have laid on her that feels so contrived. Maybe it would have been more believable if Singh had strung out the friction between Naasir and Andi for a bit.
Finding Alexander will prove to be like an episode from Indiana Jones with all those traps. When they do wake him, wow. An excellent scene. Less excellent is the encounter between Rohan and Lijuan.
Either Singh is confusing us on purpose or she's got a lot on her mind. She's back and forth on who actually killed Osiris with three contenders in the mix. Fortunately, there are only two up for the stronghold burial claim.
Singh gave us a nice rationalization on why Andromeda won't ask for sanctuary with Raphael. And an even better resolution to Andromeda's problem, even if it was too easy. But it's Laila's comment to Andromeda as she's preparing to leave that leaves you hanging in wonder. A sad thought of what might have been.
I love that Singh incorporates the characters from previous stories into the current one. That it's one long story that keeps us up to date on what's happening in the characters' lives while the focus changes from one installment to the next. I suspect it keeps me more involved with the series. Something for writers to consider.
And the women "all accept that Naasir is too wild to be held by any one woman".
The Story
I suspect Andromeda is hoping her vow of celibacy will help her survive in her grandfather's court. A prison for the next five hundred years of her life. A cesspit of sexual excess and violence.
Then rumors surface of a plot to murder the former Archangel of Persia, now lost in the Sleep of the Ancients. It will need the combined abilities of the feral Naasir and the knowledge Andromeda, the warrior-Scholar with her own dangerous secrets, has discovered to find this formidable Ancient.
As they race to find the Sleeping archangel before it's too late, Naasir will force her to question all she knows…and tempt her to walk into the magnificent, feral darkness of his playful, sensual, yet brutal world. But first they must survive an enemy vicious enough to shatter the greatest taboo of the angelic race and plunge the world into a screaming nightmare…
The Characters
Andromeda "Andi" is a Scholar with a specialty in Sleeping archangels who has worked and lived at the Refuge for the past three hundred and twenty-five years. A joyful time that is coming to an end. Her grandfather is Charisemnon, a pedophile archangel whose vampire virus got the better of him and who is in league with Lijuan. Her parents are officially Lailah and Cato; Dahariel, Astaad's second, is her actual father, and he taught her how to fight.
The feral Naasir is one of Raphael's Seven, a six hundred-year-old immortal Made by Osiris, and something other with a primitive outlook on life. Socially inept, those who love him have taught him how to blend. And he is refreshingly honest with the soul of a prankster.
Raphael is…
…the Archangel of New York, the angel around whom the series revolves, along with his Consort, Elena, a former Guild Hunter who became an angel in Angels' Blood, 1. Wildfire is the new power the Cascade has brought Raphael. While they have an apartment in the Tower, their home is in the Enclave. Montgomery is their vampire butler.
The Seven are…
…a group of vampires and angels who are Raphael's trusted men. Dmitri is the most powerful vampire in the world and Raphael's second; Honor is his wife and both adore Naasir (see Archangel's Blade, 4). Illium, a.k.a., Bluebell, one of the most beautiful angels and renowned for his blue wings and his pranks, is struggling with a sudden power increase caused by the Cascade, growing away from his friends. Aodhan, a.k.a., Sparkle, is worried for his best friend since childhood. Jason is the spymaster; Princess Mahiya is his mate (Archangel's Storm, 5). Keir is an angelic healer. Janvier is the Cajun vampire mated to a Guild Hunter, Ashwini (Archangel's Shadow).
Izak is one of the wounded angels and still healing from events in Archangel's Legion. He's studying hard for his position in Elena's Guard. Sharine is Illium's mother and known as the Hummingbird. Love is her greatest strength…and weakness, and something happened that has sent her into a retreat. Losing Illium could break her.
The Legion is…
…a repository of earth power that woke during the battle in Archangel's Legion. Powerful, with wings like bats, they are led by the Primary and enjoying their new home of a re-purposed skyscraper turned into a gigantic greenhouse. They all speak together as a single voice, see themselves as a single entity, but are coming to understand that Elena sees each of them as unique.
Amanat is…
…the city that Caliane, an Ancient and Raphael's mother with power of the earth, put to sleep under the sea so long ago. She's recently awoken, and she and her people are coming to terms with the changes in the world since she went into Sleep. Isabel was Naasir's partner when he was on long term loan to Amanat. Avi is one of the angel guards and mated to Jelena; they are some of Caliane's most trusted. Kahla was the woman Charisemnon had infected.
Nadiel was Raphael's father who went mad, and Caliane had to kill him. After Caliane and Alexander, there are six Ancients who still Sleep.
Alexander is…
…the Sleeping archangel, an Ancient with an affinity for metal. I think Nadiel and Alexander were both courting Caliane back in the day. Rohan is Alexander's son and a great general ruling a section of Favashi's territory, territory that was once Alexander's. He and his mate have had a son, Xander, who is being fostered at Titus' court. Osiris was Alexander's older brother with the ability to meld things.
The Wing Brotherhood is…
…a mercenary group created by Alexander. Tarek is the vampire leader of the village that protects Alexander's Sleep. Shavi had been a new brother when that explorer got in.
The Refuge is…
…a neutral retreat, a home for angels to heal, teach, and work as well as a sanctuary for their young. Each archangel has a compound there for their people. Jessamy is an angel Historian who teaches there and is married to Galen, Raphael's weaponsmaster ("Angels' Dance", 0.4). Venom is the youngest of the Seven, a vampire with deadly poison in his blood, and currently based in the Refuge. Sameon "Sam" is the young boy who gives the warning.
The Cadre consists of…
…the other archangels in the world who rule territories. Titus, the Archangel of Southern Africa, has gained power over the earth. Astaad, the Archangel of the Pacific Isles, dominates the sea. Michaela is beyond arrogant and could be pregnant for reals although Raphael also thinks it could be something Uram did to her — think snotty top model. Neha is the Archangel of India. Elijah is an ally. The Archangel of Persia, Favashi, can control the winds.
Jariel was on the verge of becoming an archangel.
Zhou Lijuan is…
…the Archangel of China, a.k.a., the Goddess of Death who spews a poisonous black rain from her hands, and is the world's enemy. Xi is her second and is interested in Andromeda; Philomena is another of her generals. The Scribe has been researching a prophecy by the Archangel Cassandra. Hmmm, any relation to our mythical Cassandra? Suyin, Lijuan's niece, was a gifted architect who is said to have died, although her body was never found. Heng is one of Lijuan's trusted courtiers of the inner court. The Reborn are Lijuan's horrific creation. Chaoxiang had been Lijuan's beloved. A mortal who adored her.
The Cascade is a supercharging event that increases an archangel's abilities or powers. It's not always a good thing. The Enclave is a "suburb" just outside New York where many of Raphael's angels have a home. Janvier has a small place there as well.
The Star Grimoire is rumored to exist, an angelic treasure lost for thousands of years. It is the key that will unlock Andi's vow of chastity. Hbeebti, is Raphael's pet name for Elena; it means beloved in the language of Elena's grandmother. Lijuan created the Reborn, who are the shambling, living dead who hunger for flesh.
The Cover and Title
The cover is so very Naasir, lol. The forest of trees, albeit with bare branches, and a leaf-strewn ground in an orange haze has four slashes torn across the cover, revealing an intent Naasir, his gleaming eyes starting back at us. That background feels like a metaphor for Naasir's having grown up, mature enough to seek his mate. Snap….
The title is Naasir, the Archangel's Enigma, the vampire-like being few can understand.
Related Posts