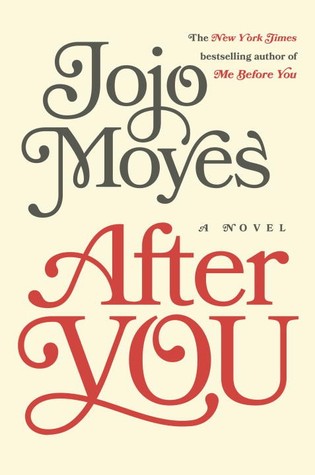 I received this book for free from the library in exchange for an honest review. This does not affect my opinion of the book or the content of my review.
After You
by
JoJo Moyes
Genres:
Fiction
,
Literature
Published by
Pamela Dorman Books
on September 29, 2015
Pages:
384
Source:
the library
Buy on Amazon
Goodreads
Also by this author:
Still Me
The sequel in the Me Before You fictional series is about Louisa Clark, a no-longer ordinary girl, and takes place eighteen months after Will's death.
In 2015, After You was nominated for the Goodreads Choice Award for Fiction.
My Take
It's an evolution with quite a bit of the sweet, the frustrating, and the weepy bits in this as we plunge into an unexpected introduction while Lou is falling off the roof. I can't decide if it's a metaphor for what's happening in her life these days or if it's the introduction to what is to come.
I do know that it left me thinking bad things about her neighbor:
"You can do what you want, sir. Tell you what, you could charge her for cleaning the blood off your balcony while you're at it."
Nor could I believe the new bar manager! I did like Moyes' description of the porno Munchkin look, though…*more laughter*…
Oh, lord, I was not expecting Josie's "rebellion", and it is about time! Every person should be able to pursue their own interests. If only because it makes us more interesting people. But Bernard's obsession about those leg hairs…crack me up.
"'Your father simply can't see me as a person beyond what I put on the table or put out in bed.'

'Uh—'

'Oh. Too much?'"
There is one quick acknowledgment of the comments Will must have suffered every day. True 'dat. I hate people constantly asking how I feel!
It's a look at grief, coping with it, weathering it, coming through it. Moyes certainly has some interesting widows and widowers in this. That Fred and his stiffy worries, lol.
It's dysfunctional families and worries over choices. The majority of it is Lou putting off having a life of her own with Moyes adding even more interest in this cast of complex characters trying to get through life.
Louisa is caught between that rock and a hard place of fearing future losses and feeling guilt for not achieving what she believes Will would have wanted. That Sam is something else. Lucky girl. She's a decent woman who wants to do the right thing, especially when she meets up with an unexpected addition to the family. One who is in desperate trouble with an unfeeling, unwanting mother.
Lily is too typical of girls who feel unwanted, who lash out with anger and bravado. It takes a long while before Moyes finally reveals what's really driving her, and oh boy…
That misinterpretation Lou has with Jake's words leads to some interesting reactions.
Nice little bit of foreshadowing, even if it was a bit obvious.
I'm hoping Moyes can be enticed into writing a third…
The Story
Still searching for herself, Louisa Clark is marking time, working in an airport pub. Interesting metaphor for freedom there… She knows she's letting Will down, that she should be achieving so much more, so when the opportunity comes along to rescue Will's daughter — in spite of herself — Lou can't back away.
The Characters
Louisa Clark, a girl who had been going nowhere, is still recovering from Will's chosen method of his end. Bernard and Josie are her supportive parents who live in Stortfold, England. Katrina "Treena" is her sister with a young son, Thom (moms will appreciate the embarrassment of some of his comments, LOL); she's attending college and living at home. Granddad is starting to forget things.
"Ambulance" Sam Fielding is the stand-up paramedic who responded to Lou's fall. Donna is his paramedic partner. Lennie is their dispatcher.
"There's no such thing as dihypranol. Totally invented. … Funnily enough, I don't think I've ever had a drug that worked better."
The rebellious sixteen-year-old Lily Houghton-Miller is an unexpected event. Her mother, Tanya Miller, was too angry to be honest. Francis "Stupid Fuckface" Houghton, a private banker, is her current stepdad. Martin Steele, a musician, was Tanya's former partner; she traded up. Mr. Garside, her stepfather's coworker, appears to be a saving angel.
Nathan had been Will's physiotherapist; he's now working in New York City. Leonard Gropnik wants to hire a girl Friday to be company for his wife.
The Shamrock and Clover is…
…East City Airport's Irish-themed pub. Carly and Vera are fellow waitresses; Violet was the cleaner and then it's Noah; and, Richard Percival is the new jerk of a bar manager.
"I fell off a building. Perhaps I could show you my surgery scars. So, you know, you can be reassured that I'm unlikely to want to do it again."
Samir owns the Mini Mart grocers across the street from Lou's new flat. Mr. Antony Gardiner is a neighbor with a smashed £800 lounger. Mrs. Nellis is another neighbor.
The Moving On Circle…
…is a grief support group. Marc is the leader of the group. Members include Natasha who lost her husband, Olaf, to cancer three years ago; Fred's wife, Jilly, was suffering from dementia and died in September; Sunil's twin brother died of leukemia; William's father died and he doesn't understand why he's grieving; Jake and his dad lost his mother, Ellen, to cancer; Daphne's husband committed suicide; and, Leanne's older sister died.
An accident left Will Traynor a quadriplegic, angry over his condition and the lack of hope. Dignitas is a center for assisted suicide in Switzerland. Michael Lawler is Will's lawyer. Camilla Traynor is his mother and a justice of the peace. Stephen Traynor (he's the custodian of Stortfold Castle) is his father who regrets some aspects of his new life, but does adore his new daughter. Della is the new missus. Georgina is Will's sister who lives in Australia.
Keith is a porter at the hospital. Eveline is one of the nurses. Patrick is the old jerk of a boyfriend. Caroline is his very active fiancée. Holly had been a friend of Lily's at the only school she had liked. Peter is the blackmailing jerk. Jemima, Nicole, and Pippa are schoolmates who know all. Nina is another friend of Lily's. Maria works the bathroom. Emeka's cousin is faking.
The Cover and Title
The cover is plain and simple, a creamy yellow background with the author's name at the top in a dark green and the title in a subdued red taking up the bottom half.
The title is what Louisa is searching for After You died.
Related Posts