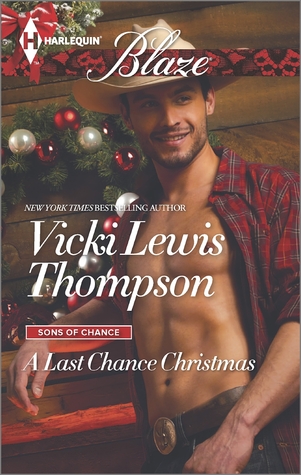 I received this book for free from Netgalley in exchange for an honest review. This does not affect my opinion of the book or the content of my review.
A Last Chance Christmas
by
Vicki Lewis Thompson
Series:
Sons of Chance #17
Genres:
Contemporary Romance
,
Romance
Published by
Harlequin
on November 18, 2014
Pages:
224
Format:
eARC
Source:
Netgalley
Goodreads
Also in this series:
Rolling Like Thunder
Ben Radcliffe reckons it'll be a cold day in hell before he considers a serious relationship or family of his own—with good reason. When he delivers a "secret" present to the Last Chance Ranch, however, Ben catches a glimpse of what family could be. And suddenly this lone cowboy finds himself under the mistletoe…planting one heck of a kiss on a stunning woman!

Genealogist and academic Molly Gallagher is all about family. And even if Ben's secrets make him as skittish as a wild mustang, there's nothing Molly loves more than an enigma. Especially a ridiculously sexy one! But the magic of Christmas—and the Last Chance Ranch—might not be enough to wrangle a cowboy who can't trust himself…
Also by this author:
Riding High
,
Riding Home
,
Rolling Like Thunder
,
Sweet-Talking Cowboy
Seventeenth in the Sons of Chance Western romance series and revolving around the Chance family and its ranch. The couple focus is on Molly Gallagher and Ben Radcliffe.
This ARC was provided by NetGalley and Harlequin in exchange for an honest review.
My Take
It begins with a prologue twenty-some years ago as we read from Eleanor Chance's diary. Just a quick intro into the family of Eleanor's brother.
I do love Thompson's characters. They're warm, loving, and supportive of anyone who comes into their orbit. They're not rich. Not in money, anyway. What they have is a more welcome wealth, that of love and caring. And the usual worry about the kids sipping wine or whiskey from those party glasses on the sly, lol.
Ben and Molly are so cute in this. Both are attracted to the other but rather shy about it, both coming up with excuses as to why it won't work. Ben has more than Molly to attract him as well, for he's never experienced a family like the Chances.
"You glow, Molly, and I'm so drawn to that. I want…to touch you all over and see if you'll glow even brighter."
Molly does irritate me a bit; she's so defensive! But Thompson more than makes up for it with their time in bed, loving each other, and then following it with their struggle to avoid each other in public.
It's an exploration of contradictions: gentle versus the fear of being harmful.
Then Thompson goes and drops in the I've-changed-my-mind trope. Argh. Yeah, it's realistic in that a lot of women do this, but it's also too idealistic as well. And it feels too fast. They've known each other, what, two days??
There are roadblocks in this romance: Ben's fear of family, his business in Sheridan, his plans for Calamity Sam, Molly's job at the university. And Ben gets his test from young Archie.
The Story
It's the unveiling this Christmas of Sarah's new saddle, the one all the kids chipped in on. It'll take some finagling, as Sarah can't know the truth about Ben's visit, not until Sarah's birthday anyway. And the lie they come up with is enough to get Ben thinking about his future.
Molly has a perfect record of attendance for Double D Christmases and while she loves meeting up with all her Chance relatives, she doesn't intend to miss this Christmas with her own family.
The Characters
Molly Gallagher, a history professor, is an Arizona cousin to these Chances and working on a genealogy of the family. Today, Molly's parents run the Double Down Ranch in Prescott, Arizona. Dennis is a new guy in the history department.
Ben Radcliffe is a harmonica-playing saddle maker from Sheridan with no one t'home and no experience of a welcoming family. In fact, his experience has put him off ever having a family. Maddie is an old, jaded girlfriend.
The Chances of Today at Last Chance Ranch
The family tree is a bit convoluted. Jonathan was Eleanor's son and had five boys with three different mothers. Jack's mother was Diana who ran off and left the two of them. She married another guy and had two sons who are Jack's half-brothers: the twins, Wyatt (owns an adventure-trekking business) and Rafe (manages investment portfolios) Locke, married to Olivia and Meg, respectively. Then Jonathan had a short affair and Nick was the result. Then Jonathan married Sarah (she's the current Chance matriarch). After that, Gabe arrived. A few years back, the widowed Sarah married Pete Beckett who came up with the idea for the ranch's summer program for disadvantaged kids.
The very protective Jack Chance is in charge these days at the ranch. He's married to Josie who runs the Spirits and Spurs Bar in town. Their son is Archie. Gabe rides in cutting-horse competitions. He's married to Morgan, and Sarah Bianca, a snoopy little thing, is the oldest with Aaron in the middle while Matilda is the youngest of their three kids. Nick is a vet and is married to Dominique, a photographer. Lester is their adopted son.
Alex Keller, Josie's brother, is married to Tyler, Morgan's sister. Pam Mulholland is Nick's aunt (and one of Sarah's best friends) and married to Emmett Sterling, the ranch foreman. Emmett's daughter, Emily, will become foreman when he retires. Emily is married to Clay Whitaker who is the director of the ranch's stud program. Regan O'Connelli is a partner with Nick in the vet practice, and he's engaged to Lily King who runs an equine rescue operation. He's also Morgan and Tyler's brother.
Mary Lou Sims seems to be the cook, and she's married to Watkins, one of the ranch hands. Trey is another ranch hand who is engaged to Elle Masterson, and both men play a mean guitar.
Cassidy is their housekeeper but she's off visiting family this holiday. Nash is a former ranch hand and Jack's best friend since grade school, and he's married to the self-help writer, Bethany. Steve is a Spirits and Spurs bartender unrelated to anyone at the party.
Bertha Mae is Sarah's favorite horse. Calamity Sam is Ben's excuse for being at the Last Chance Ranch.
The Chances of 1990
Eleanor Chance is the matriarch and married to Archie Chance. They have one son, Jonathan, and his three grandchildren. Eleanor's brother, Seth Gallagher, lived in Arizona; he and his wife, Joyce, had four children and have ten grandchildren. Eleanor does envy Seth having granddaughters. That Molly sounds a pip! Seth's daughter, Heather Gallagher Marlowe, seems to have had a time of it, but does have one son, Cade. Rance Marlowe, a bull rider, doesn't seem to have made for a very nice husband. Nelsie was Seth and Eleanor's sister. Eleanor, Seth, and Nelsie's parents had come West from Baltimore.
Rosie and Herb Padgett run Thunder Mountain Ranch, and Ben has made them a few saddles. He's retired from being a horse vet, and they have been known to take in foster boys. Finn, Damon, and Cade — the Thunder Mountain Brotherhood — are faithful about calling home every Christmas. Finn runs a microbrewery in Seattle. Lexi is someone Cade doesn't want to miss. She teaches riding.
The Cover and Title
The cover makes me think it must be warm inside, for this hat-wearing cowboy is leaning against a log cabin wall decorated with Christmas greenery, his red plaid shirt open and tucked away behind him, showcasing those washboard abs. Yum, better than Christmas candy.
The title is mostly about Ben, for he's desperately in need of A Last Chance Christmas. The chance to see a large, warm, and loving family interact. It's also for Molly in that it's her first time not being home with her own immediate family, but getting to know the Chance side better.
Related Posts