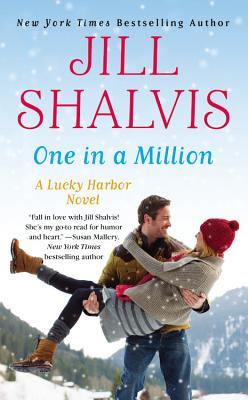 One in a Million
by
Jill Shalvis
Genres:
Contemporary Romance
,
Romance
Published by
Grand Central Publishing
on October 14, 2014
Pages:
368
Format:
eARC
Source:
Netgalley
Goodreads
As the brains behind wedding site TyingTheKnot.com, Callie sees it all: from the ring to the dress, the smiles . . . to the tears. It's that last part that keeps her single and not looking. Getting left at the altar will do that to a girl. But when Callie returns to her old hometown, she finds that her sweet high school crush is sexier than ever. And he makes it hard to remember why she's sworn off love . . .

Tanner is a deep-sea diver with a wild, adrenaline-junkie past—and now his teenage son is back in his life. How can Tanner be a role model when he's still paying for his own mistakes? It's hard enough that gorgeous Callie has appeared in town like a beautiful dream, challenging his best-laid plans to keep his heart on lockdown. Though there's something about being around her again that makes him feel like he can be the man she—and his son—deserve. Little Lucky Harbor holds their past; can it hold a beautiful new future?
Also by this author:
It's in His Kiss
,
He's So Fine
,
Forever and a Day
,
Second Chance Summer
,
Sweet Little Lies
,
Get A Clue
,
The Trouble with Mistletoe
,
Chasing Christmas Eve
,
"One Snowy Night"
,
Rainy Day Friends
,
Merry and Bright
Twelfth in the Lucky Harbor romance series and revolving around different groups of friends in this harbor town in Washington state. The couple focus is on Callie Sharpe and Tanner Riggs.
This ARC was provided by NetGalley and Grand Central Publishing in exchange for an honest review.
My Take
I do enjoy this series…and I'm terrified that Shalvis is getting ready to end it. I suspect it's why it's taken so long for me to write the review: if I don't review it, it won't end. *Eye roll*, actually multiple ones. I know, there is NO logic to that thought at all, but I hate that this series may be finishing as I've enjoyed the characters so much. It's been uncomplicated with quirky situations and a sweet range of characters — including that crazy Lucille. The nosy old lady who knows all…and tells all, lol.
Slowly, slowly, Shalvis has been unveiling the truth behind Lucille, and it's been a fun ride and quite revealing of a sneaky, well-meaning matchmaker. This particular relationship between grandmother and granddaughter is sweet…and sad as we discover what Callie's parents were like. I do wish parents could all be wonderful and there for their kids, but I guess that would mean fewer conflicted characters in the world.
I do like what Shalvis does with the high school trope of dorky girl re-encounters hunky guy whom she secretly adored back in the day. It's also a good lesson — you remember the one where your mom always told you to wear clean underwear? Well, this is a variation: always dress nice when you leave home, as you never know who you'll run into. I do like that it's Tanner who takes the offensive, so to speak (in spite of those yoga pants *grin*) in this with some unexpected truths from the old days.
Then there's that generational trope of the older (and former) wild "teen" having to cope with his own out-of-control, wild teen. His friends and partners get a lot of laughs out of this one. As did I, lol. There's a serious side as well as Tanner remembers his own angry childhood and wants so much more for his own son. He's the man we want for a father.
Shalvis has continued her supportive banter among the trios: three men friends and three women friends who don't let each other get away with lying to themselves, give each other hard times, and are there for each other.
Some nasty truths in this one about Elisa. Makes me wanna strangle her.
There's also a possibility that, ahem, chocolate is a salad…check it out.
This one always cracks me up!!
"Dad! Don't tell her that. You might make her think."
On the niggles, while I liked Tanner and Callie's "awkward" scenes at the bakery, they felt too contrived, and I wish that Shalvis had done more with Callie's "love isn't enough" attitude. A bit more "tragic" experience from Callie than one fiancé walking out on her. Then there's the unbelievable whine Callie indulges in when Tanner rushes away from her after that kiss when she knows he had to get to the high school principal's office. Followed by… her hurt feelings about Tanner not introducing her as his girlfriend? WTF? She's been adamant that they were enjoying benefits. That they weren't even friends. So, again, WTF? It's stupid moves like these that make me nuts. Then again, we do have a tendency to get stupid like this in real life, so is this what Shalvis is aiming for?
Why is Callie Tanner's greatest fantasy?
"'Home,' he whispered. 'You're like coming home.'"
A nice bit here on that myth about the freedom of being an adult, *laughing as I agree with Callie*
Mischief managed…and such an ending, such a lucky man…the luckiest in Lucky Harbor.
The Story
Callie's back in Lucky Harbor to check on Grandma. Her parents think Grandma has gone 'round the bend and want Callie to find out.
Callie is going to learn a lot about sanity and fear.
The Characters
Using her IT skills, Callie Sharpe runs a wedding site, TyingTheKnot.com, and plans people's weddings. She figures it's a way to get past her own travesty of a wedding. She's also Lucille's granddaughter in Lucky Harbor on a mission.
Tanner Riggs, adrenaline junkie, high school football star, Navy SEAL, and then explosives expert, now works (and owns) with his two best friends — Cole Donovan and Sam Brody — the Lucky Harbor Charters. He's their resident scuba diving instructor and comm expert. Gil was supposed to have been the fourth partner; he never made it off the oil platform. Mark is Sam's deadbeat dad working on a new leaf and helping out at the docks.
Troy is Tanner's fifteen-year-old son who suddenly got dumped on his dad by his ex-wife, Elisa. Tanner welcomes him, but is unsure how to deal with a Mini-Me. Dan is Elisa's boyfriend. Beatriz is Tanner's inquisitive, wheelchair-bound mom. Rio is her aging toy poodle. Brittney is a girl at school.
Lucille, who owns an art gallery, is the "town's unofficial media relations director", i.e., she's the town snoop and posts everything on Instagram or Facebook, well, Tumblr these days as Facebook took exception to some of her pics. Callie thinks Grandma's hormone levels need to be checked! Mr. Wykowski is an eighty-plus retired rocket scientist.
Becca Thorpe (she and Sam are getting married after events in It's in His Kiss, 10) and Olivia Bentley (she's hooked up with Cole per He's So Fine, 11) are her neighbors and friends.
Leah runs the mouthwatering bakery. The Love Shack is the local bar and grille. Lance (he has cystic fibrosis) owns the ice cream stand with his brother. Sally Taylor is the high school principal. Chloe Traeger is now Chloe Thompson, married to Sheriff Sawyer Thompson (Head Over Heels, 3). The Eat Me Diner which Jane owns is Callie's premiere meet-up location with Olivia and Becca. Turns out "Juliet" is Jane's great-niece. Firefighter Jack warns Lucille about her bad habits.
The black-hearted ex, Eric, the local dentist, is married to Tina with a kid on the way. Michael Soder claims to be a certified scuba diver. Caden is a bully. Lacey is one of Callie's crazed brides with Joe as her unhappy groom.
Updates:
Jax and Maddie are having a third baby.
The Cover
The cover is a snowy one of starry flakes dropping with Tanner scooping up Callie in his arms against a backdrop of mountains and a fir-lined slope. Both are in jeans with Callie adding eclectic layers of sweaters and a knit cap and scarf, her legs kickin' it in over-the-ankle hiking boots with calf-high gray socks.
The title is what Callie and Tanner each find, a friend, a mate who is One in a Million.
Related Posts