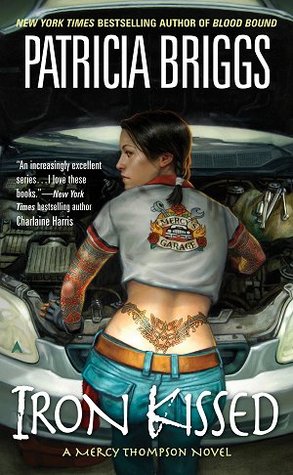 I received this book for free from the library in exchange for an honest review. This does not affect my opinion of the book or the content of my review.
Iron Kissed
Series:
,
Genres:
Urban Fantasy
Published by
Ace
on January 2, 2008
Pages:
321
Source:
the library
Buy on Amazon
Goodreads
I could smell her fear, and it satisfied something deep inside me that had been writhing under her cool, superior gaze. I curled my upper lip so she could get a good look at my sharp teeth. I might only weigh thirty or so pounds in my coyote shape, but I was a predator...

Mechanic Mercy Thompson can shift her shape - but not her loyalty. When her former boss and mentor is arrested for murder and left to rot behind bars by his own kind, it's up to Mercy to clear his name, whether he wants her to or not.

Mercy's loyalty is under pressure from other directions, too. Werewolves are not known for their patience, and if Mercy can't decide between the two she cares for, Sam and Adam may make the choice for her...
Third in the Mercy Thompson urban fantasy series (fifth in the Mercyverse) and revolving around Mercy, a VW mechanic and walker. It's Labor Day weekend in the Tri-Cities in Washington state. If you're interested, there is a chronological listing of the Mercy Thompson books on my website.
In 2009, Iron Kissed won the DABWAHA Romance Tournament for Best Romance of the Year and Best Novel with Romantic Elements.
My Take
It's all about control. From Mercy's and the pack's worries about Adam's Alpha powers, her regrets about Samuel's control issues and his current state of mind, Adam's fears for Mercy, about the Gray Lords and their singleminded goals, and the murderer's own issues.
Several of the wolves make sure Mercy knows that her refusing to acknowledge or refute Adam's declaring her his mate is having an affect on his control. It leaves him weak. It's Jesse who reassures Mercy about her dad, assuages her fears about being controlled, restricted. And then Adam forces her a step back with that security system. Can't blame him really. He's worried about how the fae will perceive the investigating she's not supposed to be doing.
The core group is loyal, even if those to whom they are loyal aren't the same. Naturally, it all revolves around Mercy, and how she cares for everyone from wolf to fae to human. I love Mercy's independence, her stubbornness and loyalty. Her worries that something is broken in Samuel. Her worries about staying herself.
Briggs has done a beautiful job of creating all these different cultures, coming up with concerns and manners particular to each in this complex intersecting of peoples and cultures and how their individual issues affect the others.
I love that the main protagonist is a mechanic. A woman mechanic who can hold her own. It's a time for Mercy to assess herself and how she's changed since she was a vulnerable sixteen.
The rape scene at the end rings so true, and what follows after almost feels worse as Mercy struggles to cope. There is a benefit to it, several actually. Adam's reactions cause her to reassess, and it provides Briggs the opportunity to set the stage for future fae interaction.
The Story
It's a favor that Mercy must re-pay. One should never use a fairy gift more than what you have permission for, and Mercy owes. It's her ability to scent that the fae want, for the fae are being murdered.
It's a pity that the Gray Lords are more interested in closing the book, that Mercy's death has been set.
The Characters
Mercy Thompson is a VW mechanic who shifts into a coyote and can see ghosts. Raised by werewolves, Bran asked Adam to keep an eye on her. Medea is her cat. Dr. Samuel Cornick is a werewolf with whom she grew up, the Marrok's son, and Mercy's first love. Now he's her roommate who works the local ER and a rival with Adam. Gabriel is a human high school boy who works for Mercy.
Bran Cornick is the Marrok, the Montana-based wolf who rules North America. Charles is his other son, a born werewolf, who is mated to Anna.
The Columbia Basin Pack is…
…led by Adam Hauptman, the Alpha as well as Mercy's neighbor and sometimes date. Jesse is his human daughter. Christy is his ex-wife. Warren, a cowboy before he was turned, is Adam's third-in-command, gay, and partnered up with Kyle, a human, although he is a lawyer. Warren is still recovering from events in Blood Bound, 2. Ben is a British werewolf forced out of England. Honey is one of the few women; Peter is her mate. a plumber, and a submissive wolf. He'd been a cavalry officer when he was changed, and Mercy thinks it was around the time of the Revolutionary war. Darryl is Adam's second, a researcher at a national laboratory. Aurielle is Darryl's mate and a high school chemistry teacher. Elizaveta is the witch the pack keeps on retainer for clean-up.
The Fae are…
…confined to reservations, including the Ronald Wilson Reagan Fae Reservation, a.k.a., Fairyland, near Walla Walla while another is Umatilla. One of the outed is Siebold "Zee" Adelbertsmiter, who says he's a gremlin but he's actually a Mettalzauber with an affinity for iron, the Dark Smith of Drontheim, and Mercy's former boss and owner of the garage he sold to her. Tad is his son and half-fae, half-human. Uncle Mike, a Green Man, owns a bar in Pasco that serves the fae and other magical people. He's also on the Council. Another Council member is Yo-yo Girl, who looks like an eight- or nine-year-old girl. Cobweb is worried. The raven is the Carrion Crow, Nemane, one of the Morrigan, and the fae assassin. Connora was a friend of Zee's and the fae librarian and archivist. Hendrick, a Hunter and forest lord, had the walking stick.
The Gray Lords, the Nameless Ones, are "powerful and ruthless beings who rule the fae in secret" and are more interested in results than fairness. The Sea King is one of them.
The Bureau of Fae Affairs (BFA) keeps a guard posted on all the reservations. O'Donnell is the guard at Fairyland and a member of Bright Future.
The Tri-Cities PD
Tony Montenegro is a friend of Mercy's and an undercover cop. Dr. Stacy Altman is a folklore specialist and the consultant the police have called on.
Bright Future is…
…an anti-fae group. Tim Milanovich is an earnest folk song nerd. And an idiot. He's also Cologne Man at O'Donnell's. Austin Summers is a friend of his. He'd also been at O'Donnell's and lived in the same house as one of Jesse's attackers, Jacob Summers, a boy Jesse had had a crush on. Courtney didn't like O'Donnell's attitude toward women. Sarah and Aiden Fideal, her fae economics teacher, are also members.
The Cathers are an elderly couple who are Mercy's neighbors. Jean Ryan is a brilliant lawyer who doesn't like the Fae; she belongs to the John Lauren Society, the largest of the anti-fae groups, and they're dirtier than the FBI suspects. Pastor Julio Arnez is the priest of Mercy's church. Finley High students from Jesse's school turned on her. Magic Made is the book an antiquarian bookseller loans to Mercy.
A walker is a Native American shapeshifter who is a natural shifter while a skinwalker needs the skin of the animal it wants to turn into. Tumbleweed is an annual folk music festival. The walking stick was created to be of use to humans who help the fae.
The Cover and Title
The cover is Mercedes leaning into the trunk of a car and glancing over her shoulder. Her black braids are short, and she's wearing a short-sleeved, collared T with "Mercy's Garage" on the back. With the hem of the T rolled up and those hip hugger jeans, her lower back and its' width-spanning tattoo shows along with the full sleeved tattoos on both her arms.
The title is about Zee, he's Iron Kissed.
Related Posts