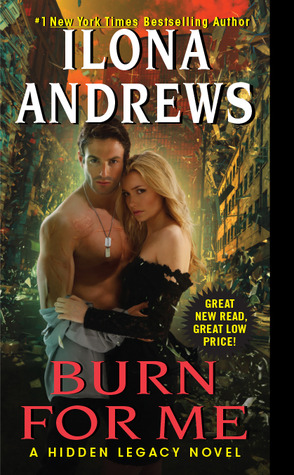 I received this book for free from in exchange for an honest review. This does not affect my opinion of the book or the content of my review.
Burn For Me
by
Ilona Andrews
Series:
Hidden Legacy #1
Genres:
Urban Fantasy
Published by
Avon
on October 28, 2014
Pages:
382
Format:
Paperback
Goodreads
Also in this series:
"Pay Me"
,
Sapphire Flames
,
"A Misunderstanding"
,
Emerald Blaze
,
"The Cool Aunt"
,
Burn for Me
,
White Hot
Nevada Baylor is faced with the most challenging case of her detective career—a suicide mission to bring in a suspect in a volatile case. Nevada isn't sure she has the chops. Her quarry is a Prime, the highest rank of magic user, who can set anyone and anything on fire.

Then she's kidnapped by Connor "Mad" Rogan—a darkly tempting billionaire with equally devastating powers. Torn between wanting to run or surrender to their overwhelming attraction, Nevada must join forces with Rogan to stay alive.

Rogan's after the same target, so he needs Nevada. But she's getting under his skin, making him care about someone other than himself for a change. And, as Rogan has learned, love can be as perilous as death, especially in the magic world.
Also by this author:
Magic Shifts
,
Burn for Me
,
Magic Binds
,
White Hot
,
Wildfire
,
Iron and Magic
,
Magic Triumphs
,
Magic Bites
,
Magic Burns
,
Magic Strikes
,
Magic Bleeds
,
Magic Slays
,
Gunmetal Magic
,
"Gerard Demille and Helen Meet"
,
"Diamond Fire"
,
Magic Rises
,
Magic Breaks
,
Magic Shifts
,
Magic Binds
,
Magic Triumphs
,
"Sweep with Me"
,
Clean Sweep
,
Sweep in Peace
,
"Questing Beast"
,
"A Mere Formality"
,
Blood Heir
,
"The King of Fire"
,
Blood Heir
,
Sapphire Flames
,
"A Misunderstanding"
,
Emerald Blaze
,
"The Cool Aunt"
,
One Fell Sweep
,
Burn for Me
,
Sweep of the Blade
,
White Hot
,
"Silent Blade"
,
Fated Blades
,
On the Edge
,
Bayou Moon
,
"George and Jack in School"
First in the Hidden Legacy urban fantasy series set in Houston and revolving around Nevada Baylor and Mad Rogan.
My Take
Oh, I did like this with its dry humor, reluctant romance, and a world that terrifies me. Think human transformers battling in the city.
It was hard to believe this was an Ilona Andrews primarily because it was so different. It is, however, as well-written as Andrews' Kate Daniels series and also set in a world like our own, but different. I wouldn't call it dystopian…more of an alternate world or history. I guess it depends on how you interpret "world" or "history".
It's definitely different with magic families having the influence. I wouldn't say they're ruling us, but it's not corporations that count in Hidden Legacy. It's the size of your House, and by that I mean the House's magic strength and how much money it's built up. Yeah, it's still a world run by the almighty dollar. We're still that human.
It's an interesting "romance" in this. She wants nothing to do with him, although she does have insta-lust for him. A lust she has a hard time hiding, and it's intriguing the heck out of Mad, a man accustomed to getting what he wants, when he wants. This boy has met his match, lol. I adore Nevada's family as well. Mama, Grandma Frida, and the kids don't take no shit, and they are amazingly supportive with some skills of their own, lol.
Mad isn't the only one used to getting what he wants, it seems that all the major Houses are accustomed to having their wishes fulfilled. No matter who they have to trample on.
There are some fun talents in Burn For Me. I'd like to see more of Cornelius'! Thank god he has some useful advice for Nevada.
It's irritating that Andrews is calling Mad a "mass murderer" when what he did was in the military during war. Sure, he's incredibly powerful with some amazing powers, but why does that make him so awful? EVENTUALLY, Andrews got me to believe he's awful, emotionless, but it took a LONG time, and it's all mostly tell. And then she twists it around on me. Again. Another niggle is Nevada's regrets over killing those firemen. Hullo. They were trying to kill her. They certainly had no regrets over killing innocent people who were in their way.
Nevada and Rogan make an interesting couple. She's too compassionate and he's too ruthless. Willing to kill for the heck of it. Even though Nevada annoys me occasionally, I do prefer her values and her own sense of self-worth. Then there's Nevada's honesty. It's so refreshing and so damned funny. You can't help but laugh and read on, hoping for more, lol.
The Story
Kelly's son is in trouble, and she's desperate enough to call on the head of her former family for help. Turns out Montgomery International Investigations is also in trouble and Augustine is willing to dump it on Baylor Investigative Agency to preserve his bottom line and to save face. So what if it's a suicide mission. He'll look good, and if Nevada dies?? No big.
It's a tough line to walk, for Nevada has to bring Adam Pierce in alive before the cops gun him down, and she has to survive Mad Rogan's focused attentions.
The Characters
Nevada Baylor is building the Baylor Investigative Agency back up after their dad's illness. Bern is a cousin on an academic scholarship and does the research for Nevada. Mom is a disabled vet, a sergeant whose skill as a sniper was owing to her particular magic. Arabella and Catalina are the younger sisters who battle constantly. Leon is another cousin. Grandma Frida is a mech mage who lives and breathes armored vehicles. Their dad has been dead for five years.
Aunt Pen and Mateus are freelance agents the family sometimes calls on. Makarov is a specialist friend of Grandma's who implants shockers as an aid against magic-users.
Major Connor "Mad" Rogan leads House Rogan, one of the major Houses. He's a complex and extremely powerful man with no scruples with whom Andrews acquaints us as the story unfolds. He's also known as the Butcher, the Scourge, the Huracan. Gerard was his grandmother's servant. Kelly Waller insisted on marrying for love and was cast out of her family, House Lancey, a minor branch of House Rogan. Tom Waller is the husband; Gavin Waller, a short-range teleporter, is their teenage son who got caught up with the wrong crowd. Troy Linman is Mad's latest hire. A man with issues whom Mad will own. Santino seems to be his HR. Dr. Daniela Arias is Mad's personal physician, and I wanna go to his clinic!
The psychopathic Adam Pierce is a spoiled rotten rich kid with very strong fire powers whose family is constantly paying to get him out of trouble. He's also a terrorist, for fun. Christina Pierce is his "blind" mother whose son can do no wrong. Peter Pierce is his older brother, a late bloomer; Tatyana is their sister. House Pierce is one of the major Houses. Hellspawn is a Pierce-specific spell. Cornelius Maddox Harrison, an animal mage, is Adam's reluctant childhood "friend".
House Montgomery bought out Baylor Investigative Agency, and the Baylors are slowly buying it back. Augustine Montgomery heads up Montgomery International Investigations and is a major jerk who will use people up to save his bottom line. Lina is his secretary.
Leonora Jordan is the Harris County District Attorney and can summon chains from thin air. She's incorruptible, powerful, and smart. Rynda Charles was the bride picked out for Mad.
Liz Rutger has hired Nevada to catch her husband, John, being unfaithful. Sergeant Munoz. Drawbridge Security is the alarm company monitoring Baylor Investigative Agency (and home). Kevin had been a regular, normal, stable boyfriend in college.
Mrs. O'Leary's cow
Professor Itou is one of Bern's professors with an interest in Mrs. O'Leary's cow, and it's an interesting twist on that particular urban legend, lol. Colonel Rudyard Emmens got some of the early serum and was a firestarter. Edward was his only son, a Notable pyrokinetic. Frederick Van Pelt was one of four friends of Edward's. Mark Emmens is the great-grandson; Jesse Emmens is the great-great-grandson who disappeared from his dorm. Patricia Emmens Bridges was married to William and they donated land. Lieutenant David Harrison was with the police in Chicago at the time. Professor Magdalene Sherbo is doing educational outreach in India.
Gustave's Custom Cycles, owned by Gustave Peralta, is a drop. Reginald Harrison is an "employee". Harper Larvo is a harmonizer and part of the her family's dwindling generation.
The Pit, a.k.a., the Jersey Village
Bug is one of Nevada's "freelancers", a surveillance specialist, a swarmer who shouldn't be alive. Napoleon, part French bulldog, is Bug's dog guide. Thea is the last warning before you head in to Jersey Village, territory controlled by House Shaw. Cherry is magic-warped. Peaches is a vicious, unstable gang leader who runs the Southside. Montrel runs the Northside.
The Osirus serum, which brings out psychic/magic talents, was discovered in 1863. It became a genetic tag which can be passed on and has led to dynasties of magic users which evolved into Houses. These Houses feud amongst each other and influence all that happens in their world. The Key is a House-specific spell that no one is quite sure what it does; it does appear to re-charge the user's magic reservoir. A tactile is one who can make you feel touched.
Magic users are segregated into Minor, Average, Notable, Significant, and Prime. I'm not sure where Stainless Steel fits in. Rare? Each magic-user has an active and a passive field. Swarmers process information at superhuman speed and can track hundreds of independent tasks at a time. The military pays out a huge bonus to family and the volunteers are usually the terminally ill — swarmers usually live 18 months after being bound. Equzol is a military drug designed to level you out.
The Cover and Title
The cover is greens. It's an exploding city street with buildings erupting on both sides with Mad and Nevada slightly off-center. In typical enticement fashion, our hero is shirtless while the heroine is in a ripped, off-the-shoulder, black, stretchy number.
The title is what Mad does for her and for the city (and is hoping Nevada will do): Burn For Me.
Related Posts